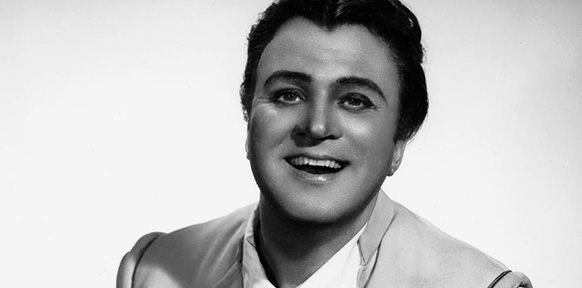 There are a lot of musical birthdays this month. Here's one that might have slipped by us, if not for the diligence of
Ö1
Radio in Austria. They are broadcasting not one but
three
programs to celebrate tenor Nicolai Gedda's 90th birthday. This man could sing
any
thing. And he did. And he sounded good doing it for many many years.
Here are links to the three programs, all available for 7 days after the (broadcast date):
Nicolai Gedda – on his 90th Birthday (3/3) (Coming soon, on July 9)
The second program also contains some excerpts from an entertaining 1998 interview in which, among other things, Herr Gedda discusses some of the great maestros he worked with and asserts that "there are no boring [opera] roles. Only boring singers and boring actors."
Nicolai Harry Gustav Gedda

was born in

Stockholm

[July 11, 1925]

to a Swedish mother and a half-Russian father. Gedda was raised by his aunt Olga Gedda and his adoptive father Mihail Ustinov (a distant relative of

Peter Ustinov

), who sang bass in

Serge Jaroff

's

Don Cossack Choir

and was cantor in a

Russian Orthodox

church.

Gedda grew up bilingual in Swedish and Russian. From 1929 to 1934 they lived in

Leipzig

, Germany, where young Nicolai learned German. They returned to Sweden after Hitler came to power. In school he later learned English, French and Latin. After leaving school he learned Italian by himself.

Gedda worked first as a bank teller in a local bank in Stockholm. One day he told a client that he was searching for a good singing teacher, and the client recommended Carl Martin Öhman, a well known Wagnerian tenor from the 1920s, who is also credited with discovering

Jussi Björling

. Later he also taught the Finnish bass

Martti Talvela

. Öhman was enthusiastic about Gedda and took him as a pupil, at the beginning without payment, because Gedda was at the time supporting his parents. After a few months he obtained a scholarship and was later able to pay for Öhman's singing lessons.