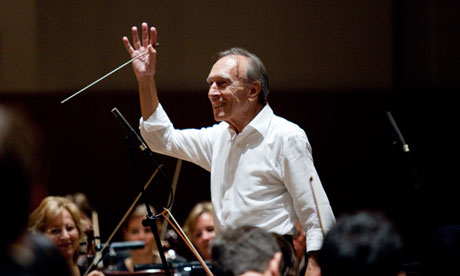 The good folks at the Berliner Philharmoniker's Digital Concert Hall have complied a series of 17 concerts in tribute to Claudio Abbado's years with the orchestra (1991
–
2002).
And for a limited time only, you can view these programs free of charge!
The Berliners don't often give anything away, so take advantage of this opportunity while it lasts.
Of course, the collection focuses heavily on orchestral repertoire, including all nine Beethoven symphonies.
However there are delights for fans of the human voice too: Requiems of Brahms and Mozart, featuring Karita Matilla, Michael Schade, Bryn Terfel, and Barbara Bonney; excerpts from Carmen with Anne Sofie von Otter and Roberto Alagna; a New Year's Eve opera program with Christine
Schäfer
, Mirella Freni, Simon Keenlyside, and Marcelo Alvarez; Mendelssohn's massive choral cantata known as his Symphony number 2; and a program of Verdi opera highlights!
Here is part of the introduction Digital Concert Hall provides for this wonderful collection:
»I am Claudio to everyone.« With these words, Claudio Abbado introduced himself in 1989 to the Berliner Philharmoniker, who had just elected him as their chief conductor. With this invitation to use his first name, Abbado made it immediately clear that his working methods were different to those of his more aloof predecessor, Herbert von Karajan. The Abbado era was indeed a departure from both a personal and an artistic perspective. In a selection of concert recordings, you can relive this experience in the Digital Concert Hall – from the 1991 European Concert to concerts from 2002, when Abbado laid down his baton as chief conductor of the Berliner Philharmoniker.