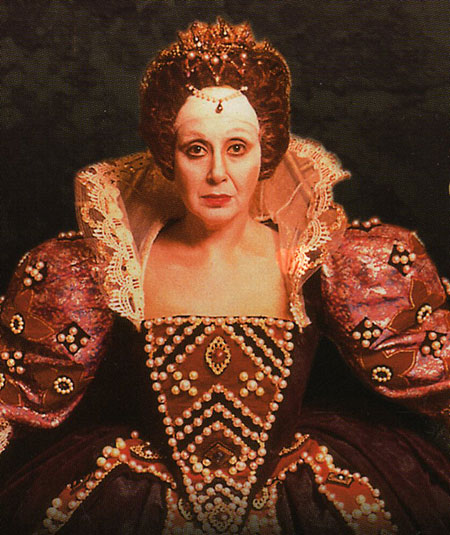 So, I picked up a used DVD (very cheaply) of the 2006 PBS Great Performances Special:
Beverly Sills: Made in America
. She passed away in 2007, so this bio-overview is free of maudlin stuff that leaves you sad and wistful at the end. We watched it last night and fell in love with Bubbles all over again!
The good thing about this program is that it's a great retrospective of her life and career, and there are many snippets of her recorded performances: from her earliest radio appearances to her final farewell recital.
The bad thing about this program is that there are almost no complete performances of anything

(except the

Baby Doe Willow Song

). But another

good

thing about the program is it makes you want to find the complete performances.
What really struck me as we watched this documentary is that not only was Beverly Sills an amazing woman, an amazing musician, and an amazing singer, but she also was a fine actress. This

final scene from Roberto Devereux

(recorded in 1975 at Wolf Trap) reduced me to a puddle. I keep going back to it, and I keep being moved and amazed at her performance.
VAI has blocked sharing of this video from YT, which is why I included the link instead of embedding it. There is another version on YT but it starts a bit later. This longer chunk sets up the final aria with her last-ditch attempt to save Roberto, and her recriminations towards Sara and Nottingham. Although she was in (minor) vocal decline by the time this performance was taped, I can't imagine a better, more sad, more frightening, more moving, or more convincing Elizabeth.
You can still get this performance of

Roberto Devereux

on DVD. I think I'm going to have to plunk down the cash and get my copy soon.