Originally published by Music Web International, April 2007: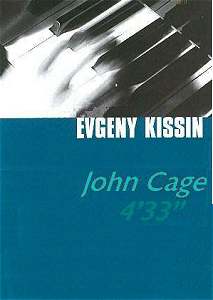 John CAGE

(1912-1992)

4'33" (five performances)
4'33" (orchestral transcription by Leopold Stokowski)*

Evgeny Kissin (piano)
* New York Philharmonic Orchestra/José Serebrier
rec. London in June 1997, Moscow in February 1998, Tokyo in September 1998, Berlin in May 2000, Vienna in June 2000 and *New York in June 2001
Picture format NTSC 4:3; Sound Format 0; Region Code 0; Disc Format DVD 9; subtitles in American, French, German, Russian and Esperanto

SONY CLASSICAL DVD
4334 3343-3
[33'00]

Review by Patrick C Waller
It must be very unusual to have six performances of the same work on one disc but I am sure the eccentric American composer John Cage would have approved. His work consisting of four minutes and thirty-three seconds of "silence" was premiered in 1952 by David Tudor who sat at the piano, opened and closed the lid, and timed the work by means of a stopwatch. Since then it has not featured often on concert programmes until adopted in the 1990s by Kissin as one of his signature pieces, perhaps a deliberate attempt to show that his artistry extends beyond large-scale romantic works...
Read this rest of this review at
MusicWeb international: